A Revolutionary Treatment for Hair Loss Growth
The laser combo provides low-level laser light energy that stimulates and enlivens hair follicles promoting new hair growth with consistent use, most users start seeing benifits in 16 weeks.(Based on clinical studies)
Salient features of Laser Comb
Laser Comb Unit Dimension: 21X5X4.5 cms
After packing :24x11x9 cms
Unit Package weight 1.0kg.
Volumetric Weight: 1.4Kgs
Adapter: 5 Volts 1Amps
Laser Comb Diodes:
3 Nos.
650nm 5mW
Light output through special laser multiplier
Main power supply:

230 V ± 10V

Comb Attachment: Fixed
Body of the entire unit:
FRP
Color: combination of cream and grey
On/Off Switch for Safety.

UV Protective Goggle provided to avoid the UV rays
Tube to grill distance is 3cm
User manual provided to operate the unit easily.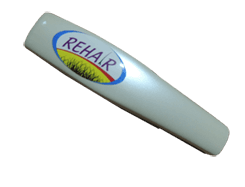 Hair Growth Laser Products, Laser Helmet, Laser Combs
Buying Laser Comb from No.1 Medical equipments Manufacturers, Suppliers and Dealers is
just a Click away